Are You New to Food Plots?
Information Overload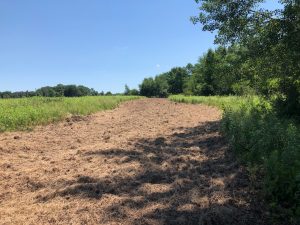 Food plot options are endless and it can make your head swim.  Equipment, soil tests, soil type, lime, fertilizer, seeds, chemical, blends and timing are all considerations.  There are multiple ways to skin this cat, and if you need some help sorting them out, our planners can give you 5 minutes to steer you in the right direction.
What's Most Important?
Where you plant is the #1 consideration.  Plant that plot in the wrong spot and your property can become very difficult to access, and not much fun.  Your improvements must work together if you are to maximize your hunting 'luck'.
Simplified – we need 3 1/2 things for success
We need to know where they bed

We need to know where they feed

We need a plan that lets us hunt undetetced
But back to the food plot.  If you need a little phone time send Shawn an email or text him.  If he cant answer your questions he will send you to one of our land planners to get you moving in the right direction.  Don't be shy.  The first 5 minutes are on us.