Stewardship Plan Overview
What is a Stewardship Plan? 
If you need any help submit your email!
As a private landowner you want the best for your woods, wildlife, and water. In order to get the best out of your property having a plan in place is a must. A woodland stewardship plan will address your goals for the property which can include but not limited to: Increasing wildlife habitat, maintaining ecological diversity, increasing forest cover, maintaining open areas for high quality forage, and timber harvesting for overall health of your timber. Get started with your stewardship plan here.
Having a woodland stewardship plan qualifies to upgrade your tax classification to either 2c Managed Forest Land which allows you to have roughly a 35% reduction in your taxes or Sustainable Forest Incentive Act (SFIA)  which the landowner will receive payment for each acre of qualifying forestland they enroll in SFIA. The landowner must choose only one of the programs not both, which one is write for you?
Is my property eligible for a stewardship plan? 
The woodland must have at least 20 acres with at least 50% of the property considered forest land or plan to be forest land.
Why should I get a stewardship plan? 
Your wooded parcel is your slice of heaven and haven't you ever wondered what ecological features make it so special? Making sure those features are maintained and improved is something every private landowner is striving for to increase wildlife, woods, and water. Whatever your goals are is how each corner of your property is analyzed and improved. A stewardship plan is right for every landowner whether you love hunting, walking trails, birdwatching, or improving the property for wildlife habitat. Get started with your stewardship plan here.
So, what's the catch? 
There is no catch. What you do with the plan is up to you. As you move forward, your plan can serve as a valuable record of information which you can share with family, contractors, or other natural resource professionals working on your land. One of our foresters would be happy to continue working with you, and can help you work out the logistics for projects like thinning, trail building, habitat improvements, tree planting, and more. Cost share may be available for projects that benefit wildlife or forest health. These programs vary year to year, depending on state and federal appropriations and priorities. What can't you do on the land is mainly develop the areas in the qualified as stewardship acres. The restrictions depend on which tax program you end up enrolling in.
   
Reduce your taxes
With a written stewardship plan you can qualify for either the 2c Managed Forest Land or Sustainable Forest Incentive Act (SFIA). Which is write for you? 
In order to qualify for either of these programs you must first have a written stewardship plan. Get started here.
2c Tax Class vs SFIA. 
2c Managed Forest Land allows you to have roughly a 35% reduction in your taxes. Owners of forest land who actively follow a qualifying forest management plan may receive a classification rate of 0.65% on any eligible land. For most forested land, the classification rate would otherwise be 1.00%.
SFIA is a great program for landowners with larger acreage or have lower taxes.  There are 3 different minimum enrollment periods (8, 20, and 50 years), with higher payments for longer enrollment periods. In each, the state pays you per acre directly every year, with the amount paid based on how many acres of land you own and how long you sustain a covenant. A Stewardship Plan is required by the state before enrollment can take place.
What is a covenant? 
A covenant is a document is signed by the landowners which abides by the SFIA program. It's important to note that a covenant is not a contract, but a condition of the SFIA program that stems from state law. By singing the covenant you are following the qualifications listed in the "What are the qualifications?" section below, as well as maintain these agreements for the specified duration you choose – 8, 20, or 50 years. A covenant will also include essential identifier information about your property such as a map, legal description, or certificate of title number. Click one of the following to read more:
8 Year 
20 Year 
50 year 
How much money will I save?  
2c: 
For example, a forestland parcel worth $200,000 would have a tax capacity of $1,300 instead of $2,000.
$200,000 x .65% = $1,300
$200,000 x 1.00% = $2,000
Calculator?
This is a simplified example. It does not take into account any additional tax costs or savings that may apply to your property. It also does not take into account the variation in local tax rates.
SFIA: 
Payment amounts are correlated with what year the covenant is (8, 20, 50). For land held in a conservation easement see Note below. The payment rates are adjusted each year based on statewide average market values and tax rates, but will not increase or decrease by more than 10 percent per year.  The payment rates are as follows (as of 2020):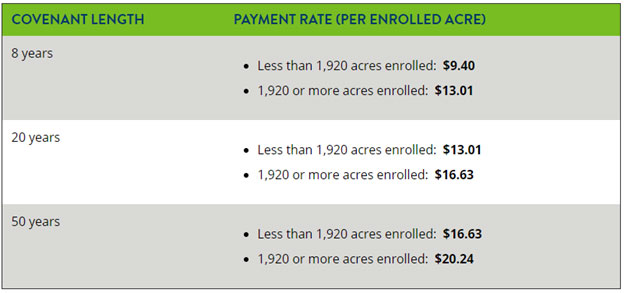 Note: If your land was enrolled in SFIA in 2017 and also has a conservation easement, the payment rate is $7.00 per acre and that land is limited to an 8-year covenant.
What are the qualifications?  
2c: 
Woodland Stewardship Plan that is registered with the DNR
Be current on property taxes
Have at least 20 acres of wooded land (enrollment limited to 1,920 acres statewide)
Acres enrolled does not receive any homestead benefits
Acres enrolled cannot be used for agricultural purposes
Cannot include property that is enrolled in the Sustainable Forest Incentive Act (SFIA) or any other financial incentive program (CRP, CREP, RIM, or the Green Acres program).SFIA: 
Be current on property taxes
Have 20 or more contiguous acres
Be at least 50 percent forest land as defined in Minnesota Statute 88.01, subd. 7
Woodland Stewardship Plan that is registered with the DNR
Have an agreement ("covenant") in place limiting the property's use to forest management activities
Not enrolled in RIM, CREP, CRP, Green Acres, Agriculture Preserves, Rural Preserves
Not be used for residential or agriculture purposes.
Not be improved with a structure, pavement, sewer, campsite, or road used for purposes that are not in the forest management plan
Not be covered under a Lessard-Sams Outdoor Heritage Council easement or similar easement granted after May 30, 2013