Website on Food Plots
Website on Food Plots
Thanks for checking out our new website! Our goal is simple. We want to provide you with the most informative, detailed oriented, step by step guide to managing your hunting land and deer population available. In fact, we don't even want to make it close.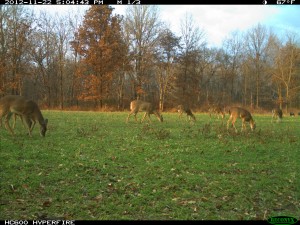 Taking it further, we also want to fill he massive void of doing this all in a way that dictates movement patterns to deer. We realize that there are good sources available for telling you what to do to your property to improve it for deer. Unfortunately, there are few, if any sources that show you how to do it in a way that truly maximize your hunting opportunities. The result is far too often growing bigger than ever before deer, only to have the neighbor's shoot them.
There are several challenges to this. For one, having personally worked as a hunting and land management consultant for nearly twenty years, I can tell you that no two properties are alike. Because of that, cookie cutter approaches simply don't work. The next is presenting these approaches in a real world, easy to follow manner. The final challenge is having the knowledge, experience and resources to accomplish this.
The solution to both is both simple and complex. In the coming months, we will provide both writings and video segments on every critical topic we cover. When required, they will be done in multiple versions, catered to specific conditions.
The knowledge, experience and resources aspect is easy. As the bio pages are completed, we believe you will find that we have assembled a staff with real world experience that simply can't be touched. I fully realize what a bold statement that is to make, but I stake my reputation on it being true.
Unfortunately, pulling all of this together in a high quality manner takes time. Our refusal to cut corners means that our product can not be produced over night, but our loss is your gain.
Though the intension is to offer numerous services, as part of a paid membership package, we will begin by providing all our content for free. That will continue until we amass the mountains of instruction based content that required to reach our goals.
Because we are in the initial stages, some of the current info offered is merely past articles I've written. What you see right now is not indicative of our final product. That will be added in stages. So, I encourage you to both provide us with your email address and check back often, to fully take advantage of the new and updated content we will be offering temporarily free of charge.
Thank you again for dropping by. We hope to see you often. If we do, we will to embark on one of the most exciting journeys that hunters can take. We are going to transform your hunting grounds and dramatically increase the hunting opportunities it provides!
Sincerely,
Steve Bartylla, site cofounder
Website on Food Plots