Tree stand tactics
Taking Tree Stands to the Next Level
So often, seemingly minor, easily addressed details can make the difference between close calls and releasing a well-placed arrow.
By Steve Bartylla
I'd barely climbed up my stand. In fact, I was still pulling the bow up when I heard the buck. He was coming in fast, head on, right down the point leading to my stand. I had to get ready now, but pulling that off without getting busted could be an issue.
One more pull on the bow rope and I had the bow in my hands. I caught a break when he paused very briefly at the scrape. Draping the bow rope over a branch, I nocked an arrow and positioned my feet.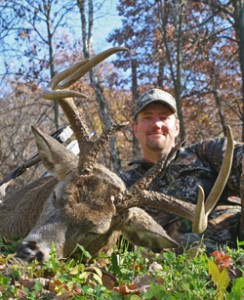 Tree stand tactics
Just as he began turning to leave, I came to full draw and grunted him to a stop. Placing my 30 yard pin, I made the quick torque adjustment the retina lock instructed and squeezed off a shot. Following the arrow, I watched the Rage tipped Easton vanish through his chest. In less than 60 seconds, my 2010 Wisconsin bowhunting season was done.
Obviously, there were many factors that led to the success of this hunt. I was in the right spot, barely got in by the right time, was able to project my arrow through both of his lungs, I had luck on my side and so on. However, none were more important than the steps I took to improve my treestand setup. Without them, I'd been busted cold before the shot.
There are many things one can do to improve treestand setups. Very often, addressing or ignoring them makes the difference between a filled tag and a close call. The following techniques are promised to increase the percent of filled tags.
Expanding Our Goals Tree stand tactics
The first and most important step in taking treestands to the next level is merely expanding our goals. What's the goal of virtually everyone when looking to hang a stand? I'd be shocked if finding the best location to arrow a deer didn't pop into your head, and for good reason.            Unfortunately, too many stop after achieving that goal. It's every bit as important to get in and out undetected. Frankly, I'd almost always rather hunt a good stand location, with very low impact access and departure routes than a great stand location with high impact routes. Blow the deer out on the way in and that hunt is generally ruined. Bust deer on the way out and one is begging them to become nocturnal.
There isn't enough space to cover all the factors involved with low impact routes, but the foundation is not allowing deer to see, hear or smell one's travels. That means one must anticipate where the deer will be while traveling to and from stands. Knowing this and factoring in wind direction, sight lines and even how much noise will be produced allows the hunter to anticipate what areas they can and can't safely navigate.
At the same time, analyze what terrain features can be utilized. Often, walking a flat offers a very high risk of being seen. Conversely, one may be able to sneak down a creek bed or ditch undetected through the same area. Traveling a valley often leads to both visual and odor risks when deer are bedded above, but a lesser used ridge top may grant safe to access the area.
If the hunter owns the land, they can plant evergreens, hinge cut strips of trees, plant switch grass or do a host of other things to create privacy fences, often referred to as screens, for approach and departure routes. The points are to always factor access and departure into potential stand sites, as well as being creative to make them work. Low impact access and departure has to be a goal when looking for stand setups.
The other goal should be improving both the stand itself and the odds of getting a shot. Don't be content with finding a great spot with low impact access and departure. There are also almost always more things that can be done to both improve the stand and the area.
Improving the Stand
Let's look closer at what was done to help kill the buck that began this piece. The setup was a small pond, about 100 yards in from a crop field. The deer routinely bedded just above the pond, dropping down to get a drink before hitting the crops.
Realizing slipping in unheard would be impossible on dry days, my first challenge was coming up with a low impact entry. I addressed this on a very windy, rainy morning before the hunt.
Using the nasty conditions to mask my noise, I raked a trail into the stand. Without that providing me silent entry, the buck surely would have heard me walking in the day I arrowed him.
After raking a trail, the next step was accessorizing the stand. The only tree that worked was about the size of a telephone pole. Unfortunately, it also offered about as much cover. I addressed this after setting the stand.
The first step was attaching a safety strap to the tree. Doing so would allow me to clip my safety harness in as soon as my feet hit the stand platform, minimizing the movements, sounds and prep time of attaching it when hunting.
Next, I adorned the tree with three bow hooks. Hooks are cheap and having gear readily available can be invaluable. Along with pairing each stand with a bow rope, I see them as must haves.
Finally, I cut a bunch of oak branches. Weaving them into the outer edges of the stand platform and attaching others to the back of the tree, I instantly provided myself with movement hiding cover.
Quite honestly, if I'd skipped any of those steps, I'd have never arrowed that buck. Having the bow rope, hooks and tree strap already in place were both time and movement minimizers, in a situation that didn't afford me extra of either.
Even with the added cover, it was all I could do to get the bow up those last few feet, nock an arrow and come to full draw undetected. Without it, I'd have been busted silly.
Improving the Area
The other difference makers came from improving the area around the stand site. In this case, all that involved was cutting a suitable tree for scraping.
Because deer approaching from the opposite side of the pond, as that great buck did, wouldn't naturally provide a good shot angle, I needed something to change that. At the same time, that area didn't offer any yardage markers that stood out. Sure, there were a bunch of similar sized trees, but it can get easy to confuse them in the heat of battle.
To combat both of these issues, I dug a 2.5' hole, precisely 30 yards from the stand and "planted" the scrape tree. Pointing the licking branch towards the stand, any deer inspecting the scrape would naturally offer broadside or quartering away shots, at a known distance.
There's no doubt that "planting" that scrape tree was the final difference maker. For one, it bought me the precious seconds needed to get ready for the shot. Additionally, with his attentions focused away from the stand, it provided the ability to pull off the hurried movements required to beat the clock. Finally, with no chance of ranging him, I never had to second guess which pin I'd use.
It's often risky or fruitless to try to stop deer with vocal grunts for the shot. Strategically "planted" scrape trees, well placed mock scrapes and even scent wicks can all be effective at both stopping and positioning deer for the shot. The trick is to place them on the opposite side of the trail from the stand. As a bonus, that focuses their attention away from the stand, allowing for undetected movements.
Conclusion
I specifically used this hunt because it so clearly reveals steps to improve stand setups and how critical they can be. In this case, there's no doubt that skipping even one of them would have resulted in a thrilling close call, instead of that filled buck tag.
That said, this piece barely scratches the surface of what one can do to improve stand sites. Many times I've shot deer from creek or fence crossings that I've made easier for the deer to use, while blockading the crossings I couldn't cover. When a funnel is too wide to cover, creating brush pile blockades does wonders for narrowing them down. A 32" wide trail across the standing rows of a cornfield or path cut into a thicket has drastically improved many otherwise good stand sites. The list just goes on and on.
However, each improvement began the same way. After the stand location was found, everything else stemmed from simply asking what could be done to make this stand and location even better. When one asked that question and utilizes a little creativity, it's amazing how many difference makers they can come up with. Best of all, all it often takes is one of them hitting to transform that close call into a happy ending.
The Foundation Sidebar
Most readers know to orient their stands to allow for minimized movement. Rather than place the stand to face where the shot is likely to occur, offsetting it by 45 degrees to the right allows right handed shooters to both shoot sitting down and minimize movement for proper feet positioning on standing shots. Throw in some good back cover to hide the minimized movements and the combo is a difference maker.
At the same time, experienced stand hunters have learnt that placing a stand right on the trail makes it easier to get picked off and provides horrible shot angles. Setting up back off the deer's line of sight by 15-20 yards solves both of those issues.
Finally, virtually everyone realizes how important it is to hunt the wind. If one's odors are drifting to where the deer are coming from, where the shot will occur or where the deer one passes are going to, chances are one will be listening to a lot of snorting deer.
Sure, these are all treestand basics. Still, if one ignores the basics they most often pay a stiff price.
Stand Safety Sidebar
Frankly, nothing treestand related is anywhere near as important protecting one's self from serious injury or death.
That begins by selecting a safe tree. That means dead trees are off limits. Even when using ladder stands, one never knows when a dead branch above will snap. There's a good reason professional loggers refer to those dead branches as widow makers.
Next, the tree must be large enough to safely support the stand. Because the base of ladders supports some of the weight, they can be safely used on somewhat smaller diameter trees than hang ons and climbers. However, even if one ignores safety, any wind will cause even ladders to rock and make accurate shooting impossible.
The final consideration is tree lean. There should be very little or none at all. A very slight lean backwards can be accommodated, but either climbing or sitting in a stand with a sideways or front lean is a deal breaker.
When erecting the stand, all but the shortest ladders are two man jobs. After fastening all of the supports from ground level, an assistant is required to help hold the ladder steady while it's attached on top.
For hang on stands, a lineman's belt is a must have. Not only does it keep one safe while first climbing the tree, but it's mission critical to safely attach the stand. Between the hands and feet, one must always maintain at least 3 points of contact when not secured to the tree with a safety system. When hanging the stand, that's impossible. Besides, lineman's belts make attaching the stand infinitely easier.
Running the steps beyond the stand is also important. The platform should always be stepped down on, instead of producing dangerous torque by stepping up onto it. Additionally, either run the climbing aides far enough past the platform to also serve as hand holds or add two screw in steps to hold while entering and exiting the stand.
A safety harness must be worn at all times on stand. Also, buying an extra tree strap for each stand is fairly inexpensive and reduces the risk of being unhooks while attaching and detaching the strap.
Finally, every stand that's hunted more than once should be accompanied by a Hunters Safety Systems' LifeLine. This life saving product keeps one safe during the climb up and down the tree.
Stand safety is something no hunter should ignore. Hunting is supposed to be fun, not life threatening.
Getting the Most from Ground Blinds Sidebar
Though this piece focuses on treestands, many of the same principles also apply to ground blinds. All the same tactics that work for funneling deer to your position and stopping them apply equally to ground blind hunting.
Additionally, positioning the chair at a 45 degree angle and placing a bow holder off your lead knee greatly minimizes movement. Setting the blind out of the deer's line of sight also helps reduce getting spotted. Cutting the lower branches from a tree to snug the blind under its remaining, draping branches, as well as breaking the outline by brushing it in, is much like adding cover to a stand.
However, there are a few tricks that differ. For one, creating a bare dirt footprint for the blind greatly minimizes noise.
Additionally, wearing a black hood, top and gloves helps one vanish into the shadows within the blind. Camo is for stalking and stand hunting. Black is the enclosed blind hunter's best camo.
Captions:
: The author's 2010 Wisconsin buck does a great job revealing how little details can translate to big success.
: Hunters can often use natural features to provide safe routes to and from stands.
: Landowners have the advantages of planting screens that aid in undetected access and departure from stand sites.
: Something as simple as leaving a tree strap attached to the tree not only reduces noise, movement and the time to be in hunt mode, but also increases safety.
: Adding cover to a tree can transform hunters from appearing naked to being well hid.
: Scents can be very effective at stopping, positioning and focusing a deer's attention away from a stand.
: Linemen's belts don't only keep hunters safe, they are invaluable when hanging stands.
: Draping one's entire upper half in black does wonders for allowing blind hunters to meld into the shadows.