Too many deer
Too many deer
This thread brings up some really good points. The most important is to never underestimate the power or critical nature of adequate nutrition over whatever portion of the year causes deer the most stress/when high quality food is in least supply. In the north, that's winter. In the hotter areas that routinely experience drought, it's most often summer.Don't get me wrong. Overly long, hard winters or overly hot, dry summers will never be a deer's friend. That said, offering a surplus of nutrition during those times can do wonders to help minimize either's impact.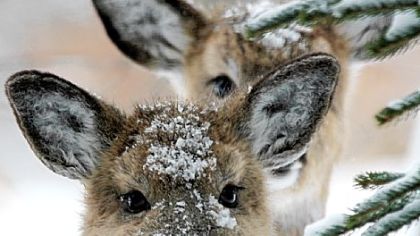 Another important point is one that several have brought up. It's a lot harder to offer adequate nutrition during periods of high stress when the area is overpopulated. For as much talk as there is about needing to kill does to get sex ratios more in balanced and improve the rut action, in areas of overpopulations, those issues are nothing. It's that too many deer are extremely hard to feed during periods of low food production and high stress…when the deer need it most.
I get why so many nonQDMers focus exclusively on hunt plots. That said, if you really want your grounds to produce healthy deer, November isn't a make or break it month. In the Upper Midwest and North, it's Dec-March. Even on a late spring, if you can get deer to be well fed through March, they'll make it through that rare bad April OK.
If the deer come into April and May in tough shape, having subsided in starvation mode for the last 3-4 months the bucks' racks are going to suffer accordingly. As dipper points out, during mild winters, the difference will be minimized. During harsh winters, it's a real kick in the pants.