Satisfied Customer
Every once in a while we get a nice email from a satisfied customer.  Joe Bartylla sent me this and I thought it was worth sharing.
Joe, here is a testimonial:
 –
      After filling out the questionaire for the free phone consult, I wondered when I would get a response, if any. To my surprise, the phone rang the next evening with a friendly voice introducing himself as Joe Bartylla. After a lengthy and detailed conversation with Joe about my newly purchased hunting land and hunting tactics, I hung up the phone and came to a realization. The realization that I had two options. I could do it on my own, learn how to hunt my unique property season by season, learning by mistake and failure, or I could purchase a custom property design from the Bartyllas and expedite the learning curve immensely
–
I chose the latter. With the previous experience of designing many properties, the humility, confidence, education, knowledge and work ethic that Joe Bartylla personally has displayed to me, I knew I could not go wrong. The process of getting a plan into motion has been a pleasure from a customers standpoint.  The staff have been more than accommodating with their availability for questions and conversation regarding my specific plan. They took specific, minute details into account designing the plan for my property with each aspect of the plan having its own purpose and place.  Their is nothing "random" included in their plans, as every feature has its role in making your land attract and hold more deer along with being more huntable than it previously had been.
 –
      The most impressive part of the property design experience I have had thus far is the staffs' dedication to continually follow up and evolve the plan with you as time progresses. Working with the Bartyllas, it is clear that they are there to be your guides and resources as your specific property design progresses. This is not a "one and done" product. They do not disappear once the plan is completed and paid for.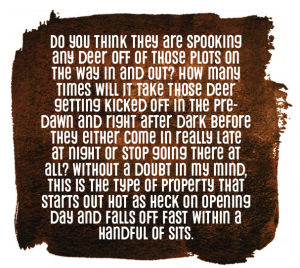 –
      I am a normal guy with a small parcel in Northern Wisconsin. I am not being paid to make this testimonial for the Bartyllas in any way, shape or form. I chose to write this testimonial because I believe the Bartyllas are providing this service for the right reasons.. They are truly good people who love the outdoors, hunting, and helping others.
      Joel K.