Picking the size of food plots for deer
Picking the size of food plots deer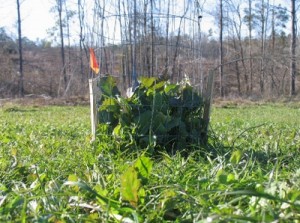 Picking the size of food plots for deer means picking the goals of those plots.  Are your food plots for deer year round feed, or are they simply hunting season attractants to put them in range during the gun or bow season.   Food plots for deer are expensive endeavors, and more is not always better so lets analyze the size of food plots for deer.
The size of food plots for deer depend on the acreage you control
Experienced deer mangers recommend 1 to 5% of your total acreage be dedicated to food plots for deer.  You want to consider what your deer herd is lacking in the area and work around those percentages.  Are you in a heavy ag area where the corn and beans are everywhere, or are you deep in the north woods where swamp and brush are the prevelant features.  If feed is a limiting factor in your managed area, you should lean towards a high percentage of your land converted into good size of food plots for deer.  Identify food as a need in the area, and the plant it and they will come axiom is a reality.  Conversely, if you are in farm country you should be able to work with smaller size perennial size food plots for deer that focus on variety for the herd instead of year round feed.
Size of food plots for deer varies with what you plant
Some plants can handle significant browsing by deer, while others can tolerate very little.  This is a major consideration when planning the size of food plots for deer.  Corn and beans are 2 examples of monocultures that can be difficult to grow in high density deer areas.  Deer density will dictate the minimum acreages you can plant  these attractive food sources.  Densities under 15 deer per square mile achieve success for corn at 2 acres and soybeans at 1 acre.  Deer densities hovering around 25 per square mile require a 7 acre corn minimum size food plots for deer, and 4 acres for beans, and higher deer densities in non ag areas are simply difficult to rationalize.  Most of the crop will be destroyed and with planting costs hovering between $150 and $350 per acre, it get cost prohibitive maintaining these large size food plots for deer.
Perennials and the size of food plots for deer
Perennials such as chicory and clover are sustainable on a much smaller scale.  The same deer densities that require a 2 acre corn field can grow a summer long supply of clover in tenth acre size food plots for deer.   I learned this lesson the hard way as I was getting tired of mowing and weed whipping my hard to access clover plots to maintain them.  If the deer don't keep up with your clover, it needs to be mowed because if it goes to seed, only the seed head grows and the rest of the plant loses it's appeal to your deer herd.   Some of my clover plots were ½ to ¾ acre, and while I could tell the deer were in there, I still had to mow or whip twice a year to keep up.  I reduced the size of all my clover plots to 1/10 or 1/8 an acre, and let the rest of the field go fallow.  The deer keep up with these smaller size food plots for deer, camera pictures quadruple, and sits on these plots results in most deer sighted feeding in bow range.  In this scenario more is definitely not better in regards to the size of food plots for deer.
Utilization cages determine the size of food plots for deer
The only real tool for determining the size of food plots for deer is a utilization cage.  This cage is simply an enclosure to keep deer out while letting light and water in.  These cages can be made form a simple circle of wire mesh with a 3 foot diameter 3 feet tall.  Anchor them in the field and you get to see how the deer herd activity affects the plot.  A successful plot inside the cage means if the balance fails, the size of food plots for deer is too small to handle the pressure, and if the plants inside the cage are the same size as the plants outside, the size of the food plots for deer is likely oversized and can be cut in half's or thirds or smaller.  Start with the above guidelines, but in the end, always run a utilization cage in your plots to fine tune the size of food plots for deer where you hunt.