Food plots for grouse
Food plots for grouse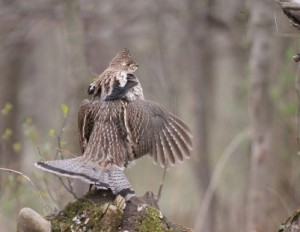 Food plots for grouse are highly effective for concentrating birds while you hunt.  The easiest and most effective Food plots for grouse are clover along logging trails or man made trails in the woods.  Grouse are edge creatures, much like whitetails.  They prefer to hang where 2 types of cover collide and a lush clover trail in the woods is a nice edge for them to visit and feed in.  Food plots for grouse are often too much work unless the logging trails are already in place.
Food plots for grouse
Food plots for grouse are best worked over the course of 6 months for best results.  The first step is a complete kill of any vegetation crowing on the trails.  Grasses will outcompete your Food plots for grouse and are the most difficult to kill so do it right.  Kill any weeds and grasses when they are actively growing so they uptake the chemical at a rate that destroys the plant.  When the leaves on the trees are the size of a dime is a great time to spray, and make sure no rain is scheduled for at least 24 hours.  A nonselective herbicide like Roundup or a generic equivalent is a good choice.  Add a surfacant to make sure the plant kill is complete. Now is a good time to take a soil sample so you know how much lime to add to amend your soils PH to the proper level/  Your Food plots for grouse are mainly clover, and if the PH is too low they will not thrive.  Lime is cheap, but usually required in the acidic deep woods for successful Food plots for grouse. After they existing vegetation is dead (7 to 10 days) it is time to add lime and work the soil.  We must rough up and expose the soil so the clover seed makes contact with the dirt or it will not grow.  We are dealing with areas that have a layer or dead vegetation and if we do not rough it up and work it in, our Food plots for grouse will not work.  A tiller mounted on a tractor set shallow works great, but we can use any tool that will work the dirt.  4 Wheeler hitched discs will get the job done, and a drag may work but not as well.  These trails are often packed well by vehicle and human travel, and require some horsepower.  Rent a tractor and tiller to get your Food plots for grouse off to a proper start. After we work the dirt and add our lime (pel or ag lime works) it is time to plant.  A fall planting is the most successful for these Food plots for grouse, but you can plant any time of year that is timed with a proper rain to keep the soil moist.  Pack the seed in with a cultipacker or even your 4 wheeler tires to ensure good seed to soil contact for germination.  Air pockets are bad, and make sure the seed is not planted more than an 1/8 inch deep or it will not make it out of the ground.
Food plots for grouse maintenance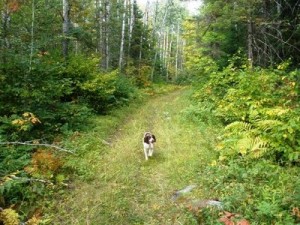 Depending on how much light gets through, you may have to mow your trails once or twice per year.  We do not want the clover in our Food plots for grouse to form a seed head.  As the seed heads form, all plant energy goes toward making seed, and the plant is not fresh and tasty.  A fall fertlizer application low in nitrogen is a huge help, and we may need to frost seed every 2nd fall to keep the stand full. As time wears on, weeds will creep in to your plots.  Mowing will subdue annuals weeds, and there are select herbicides you can use on clover to kill off the grasses that will creep back in from the sides. Get your Food plots for grouse off to a good start, and proper maintenance will have them green and full of grouse.  Food plots for grouse will also attract deer and wild turkey.  Lots of animals enjoy Food plots for grouse.