Deer sidewalks and sneak trails
Deer sidewalks or sneak trails
Those "sidewalks" are most often created by a combo of hinging all the trees safe to hinge, cutting those that tend to snap and girdling those that the chainsaw operator isn't comfortable with. If timber value is a major concern, you can leave high value trees, but leaving too many will impact the regrowth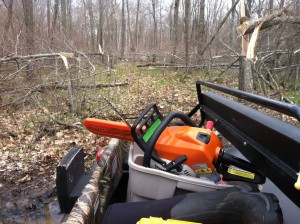 Deer sidewalks or sneak trails
One should never fight tree lean on bigger trees when hinging, ever. So, I allow all leaners to drop in any direction they want, and can cut them out of the "sidewalk," if they happen to fall across it. Otherwise, what I'm trying to do is get them to drop perpendicular to the 28ish inch sidewalk that will be created in the center of this cut. I'll hinge the trees about waist level, simply because that's comfortable for me. Unlike when creating blockades or bedding areas, height doesn't matter when hinging trees for sidewalks. The only consideration is that doing it too high will keep more of the shoots from being browse, and I want the browse, but not enough to kill my back by cutting the all at knee height.
Deer sidewalks or sneak trails
The width is part art and part science. 1st, if the area is already nasty thick, I won't hinge anything and simply create that 28″ wide trail through it (cutting and spraying RoundUp to make it as easy walking as a sidewalk). Most areas are too mature and I'll need to cut/hinge to let in enough sunlight to promote enough regrowth for the "sidewalks" to be heavily used. The more mature the trees and closed the canopy, the wider this swath of cut trees must be to get the desired effect. Based on the maturity and canopy, the width ranges from 20′ to 20 yards, with the trail running down the center. Most often, because most habitats have differing pockets tree maturities/densities, the width on a property fluctuates.