Steve Bartylla on the Web
Steve Bartylla
Steve Bartylla's Facebook page has been blowing up with greta reviews.  Past customers of Steve Bartylla have seen results and are not afraid to give
their 2 thumbs up.
https://www.facebook.com/steve.bartylla
Tip of the Day
Brought to you buy:
Antler King, Custom Robotic Wildlife, Inc., Easton Archery, Heater Body Suit, Inc, Hunter Safety System, Mathews Archery, Inc., Redneck Hunting Blinds, RECONYX, Wildlife Research Center, inc. & Bartylla's aerial photo evaluations
I'm afraid that this will be at least partially preaching to the choir, as most of you have already arrived at the place I'm about to describe without a lick of help from me. That said, having struggled in the past with this mightily myself and knowing how destructive it can be, I wanted to share this with those that follow my work the closest…All of you!
When pouring your heart and soul into managing ground on any free range property, you're going to have all sorts of things work against you. Mother Nature will decide not to rain for a month after putting in a food plot, the fruit trees you planted die, the bucks you pass are killed by neighbors (and they deserve as sincere as we can muster congrats for doing so, no matter how bad it stings) and everything else imaginable under the sun will eventually explode in your management face. I'm sorry, but that's pretty much a given when trying to control Mother Nature and her creatures.
We all face a choice. We essentially have 3 paths we can take… (more on his Facebook page)
Steve Bartylla
Steve Bartylla also appears on several web based TV shows including his own series 'Grow 'em Big'.
TV series and it is loaded with great information.  Check out the entire series on Youtube and at Deer and Deer huntings web site.
Steve Bartylla
Books.  Quality books.  His latest book dives deep into the land management jungle teaching you how to lay out your parcel to maximize the huntability.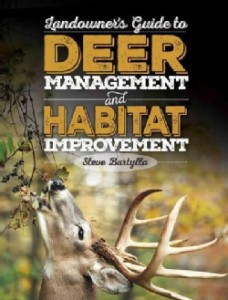 The Amazon reviews are great.
Top Customer Reviews
Format: Kindle Edition Verified Purchase
I enjoy hunting books like this because they are not out of touch with reality. Bartylla identifies three different types of hunting land and acknowledges that most hunters will never hunt the primo, utopian lands that very few get to hunt. I hunt mostly big woods in the Appalachian Mountains and I have found few resources that provide helpful tips for these spots. This book definitely has some helpful things to offer. The last chapter also has some personal thoughts to consider as well.
Comment Was this review helpful to you? YesNo Report abuse
Format: Paperback Verified Purchase
Great Educational "How to" book for shooting mature whitetail bucks for those willing to work for them. As the saying goes:
"Two months of deer season and 10 months of getting ready for next year". Steve Bartylla puts it into easy to understand terms and I highly recommend this book to anyone wanting to improve their odds.
Comment Was this review helpful to you? YesNo Report abuse
Format: Kindle Edition Verified Purchase
Love Bartyllas straightforward style. Very little fluff and no braggadocio…just proven tactics that are easy to grasp.
Comment Was this review helpful to you? YesNo Report abuse
Grow 'em Big is a new deer management show hosted and will run bi-weekly. The info-packed show will provide top-end management techniques  has honed during his 25-plus years of managing some of North America's premier deer hunting properties. The end result is a show designed to make your deer hunting easier through proven and efficient land-management practices.