February deer habitat projects
February deer habitat projects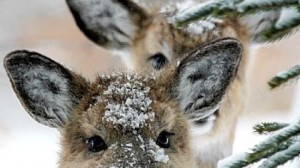 February is a big month for deer managers.  The hunting season is over and it's time to get back to work.  February is the best time to learn from last year, and prepare for next fall (it's coming quick).  Scouting is a big priority this time of year.  It's also time to pull, maintain and inspect our stands.  It's time to check our food sources and see if we are planting enough to maintain a year round deer herd.  If your small grains are gone, you need to plant more next year.  They should hold until March, and your limited food plot space would be better served with something else unless you add more.
The ground is frozen in most of the midwest, and it's the best time of year to bring equipment across wet areas for winter discing, timber harvest, habitat projects.  It's a lot to keep track of, and our P&Y members get emails reminding them to stay on track.  A valuable tool.  This months P&Y video tip is comprehensive overview analyzing sanctuaries.  Learn the why's and hows of one of the few timber projects anybody with a chainsaw can accomplish.
For those of you who have established a solid working property plan, the in depth articles and calendar based videos in the Booner package illustrate the proper way to execute and realize your dreams of a high quality, and highly huntable property.  We have identified 9 unique projects for the month of February, all geared toward optimizing your whitetail herds needs.  TSI puts browse on the ground is our big hitter right now.  When you know how to gauge woody browse activity by the deer, you know which year they need help with extra browse, and our Booner package covers the topic in detail.  It's free food when they need it.
Welcome to the new year, and a new set of expectations for your property.  Whether you own and lease, one thing is consistent.  Everybody needs a solid working plan to realize those goals.  We are here to help, and ready to start.
Winter scouting (Dec, Jan, Feb, March, April)
February deer habitat projects
Find bedding, feeding and connecting routes