Creating buck beds
Creating buck beds
I've purposefully saved creating buck beds for towards the end, as I believe making buck beds is generally one of the least beneficial things we can do and an overall low priority. Still, they may make a small difference in further encouraging a buck to bed where he would have wanted to, anyway. That is the key, in my experience. It would take someone far more skilled than I to consistently get bucks to bed in areas they naturally wouldn't want to. In fact, I don't believe it is possible. However, one can improve natural buck bedding locations and may be able to get them to bed there more than they otherwise would. That's my goal in creating buck beds.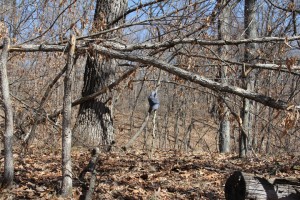 Creating buck beds
In the pictures below, my Mathews hat is hanging inside a buck bed I just enhanced. The bed was already there, on the military crest of the point, offering a superior view of everything on the 3 sides below. As you can see, all I did was hinge cut a handful of trees at about chest level, creating entry and exit points from both sides of the tree, giving him a little more front, back cover and overhead. I never worry about scraping away all the leaves, humping in fresh sawdust or straw. Bucks bed on leaves all the time and I've yet to hear one complain about it.
Creating buck beds
When they aren't already bedding right next to a tree, I will sometimes cut a section of log for them to lean against. Most times I use the existing tree as the "headboard" or do nothing at all. When made where bucks are bedding or in locations that have all the traits a buck wants in a bedding site, they appear to work great. When made somewhere they don't and doesn't have the traits they look for (a combo of high visibility, ability to use the wind to cover their back side, difficult to impossible approach from the back side, edges of thick cover, humps in wet lands and so on), I don't have good luck with buck beds at all.